Forage Rainfall Insurance Program
The Forage Rainfall Insurance Program is available on native and tame acres for hay or grazing, protecting pasture and hayland in the event that seasonal precipitation is below the long-term average. Fire insurance is also available.
View Terms and Conditions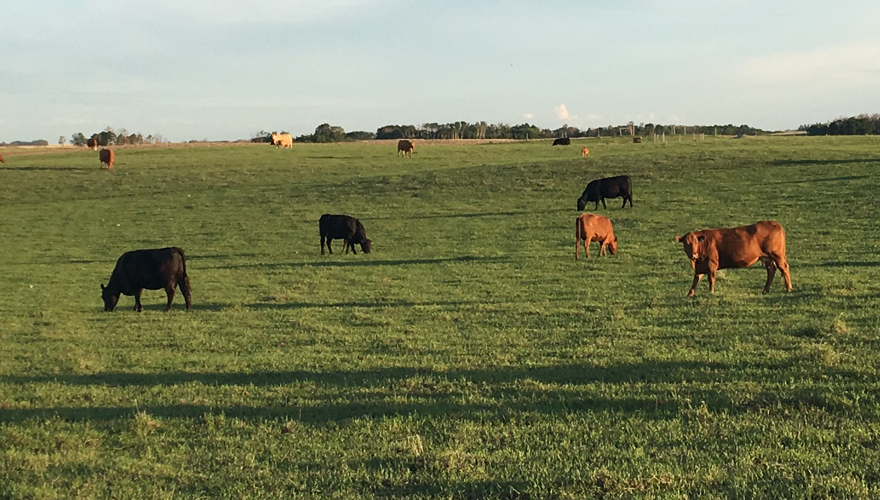 2022 Program Enhancement
In the 'monthly per cent of normal' calculation, one millimetre of rainfall will be deducted for each day the temperature reaches 31 degrees Celsius. This adjustment will help recognize the impact of extreme heat on forage yields.
To Enrol
There is no limit to the number of acres you may insure, but a minimum of 10 acres per legal land description is required. The deadline to apply for, reinstate, cancel or make changes to your FRIP endorsement is March 31. Your contract is continuous and unless you make changes to your endorsement by March 31, your insurance remains the same from year to year.
You can choose to participate in the FRIP or the Multi-Peril Program for tame hay acres, however, you cannot participate in both programs in the same year.
Fire coverage is in effect year around from April 1 to March 31.
Premium
FRIP premiums are cost-shared. Producers will pay 40 per cent while governments pay 60 per cent. Premium rates are calculated using weather station historical precipitation data, the weighting option, precipitation cap that you select. The risk of accidental fire is also included in the rate.
Coverage
For each land location you wish to insure you must select the following:
Weather station
Weighting option
Precipitation cap
Coverage Level (low, medium and high)
Coverage levels follow three soil zones along township boundaries. Your soil zone where your land is located, not the weather station you select, determines your coverage per acre.
Forage Rainfall Claim
A forage rainfall claim is triggered when the precipitation at your selected weather station is below 80 per cent of normal. For each percentage point below that 80 per cent, 2.5 per cent of liability will be paid.
The rainfall indemnity calculation is based on your selected monthly precipitation weighting and your selected precipitation cap.
Precipitation includes all rainfall and snowfall amounts.
Quality control measures include verification of all weather station data by a third party (independent of SCIC) using procedures approved by an accredited meteorologist.
Only verified data is used in claim calculations.
Precipitation determined for the selected weather station is the only means of determining a rainfall claim.
Claims are not tied to individual yields or the amount of precipitation on individual parcels of land.
Rainfall claims do not have to be filed; they are automatically calculated in August based strictly upon weather station data. Verified monthly precipitation amounts will be available on the SCIC website and at your local customer service office.
Forage Fire Insurance Claim

A fire claim requires an inspection to assess the damaged acres.
An eligible fire claim will trigger a payment equal to the full insured value per acre. A minimum of one acre must be damaged to be eligible for payment.
The combined value of a rainfall claim and fire claim cannot exceed the maximum insured value per acre.
For example, if an acre is fire damaged, the maximum value will be paid. Lack of rainfall will not trigger an additional payment.