Benefits
If your program year margin falls 30 per cent below your reference margin, due to any combination of production loss, adverse market conditions or increased costs, AgriStability could provide a payment.
Your program year margin is calculated each year. When your program year declines by more than 30 per cent of your reference margin, an AgriStability payment will be triggered. Beginning in the 2023 program year, the compensation rate is increasing. This means, when an AgriStability payment is triggered, the current payment of 70 cents for every dollar of decline will increase to 80 cents per every dollar of decline.

Interim Benefit
The interim benefit gives you the option of receiving funds prior to the completion of your fiscal period in the program year. This can help support losses and cover costs.
The benefit is based on the estimated margin decline or loss for the year when compared to your reference margin (historical average). Just like the final AgriStability benefits, your margin decline must be at least 30 per cent below your reference margin to access a payment.
To be eligible for an interim payment, you must have completed a production cycle and six consecutive months of farming activity in the program year apply for the benefit.
Apply for an interim benefit by completing the application. If you receive an interim benefit payment you must submit final program forms by the required deadlines.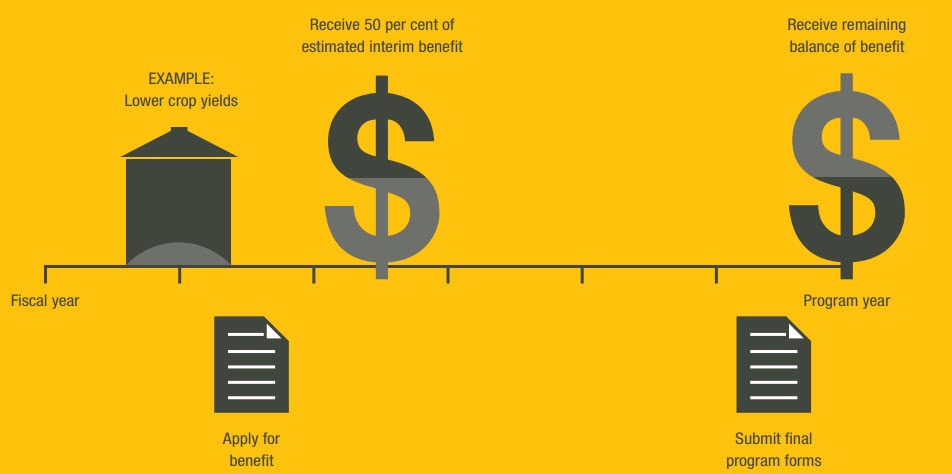 Calculation of Benefits
When SCIC has completed processing your AgriStability application, a Calculation of Benefits is generated detailing your income, expense and supplemental information for both the program years and reference years.
A short summary showing how SCIC determined the final calculation and the new reference margin is mailed to you, once the file is completed. The complete version of the Calculation of Benefits (normally 10-12 pages) can be mailed upon request or accessed using AgConnect.